Equine Acupuncture and Chiropractic CPD
I am delighted to share with you that Dr Kerry Ridgway DVM is presenting a 4-day course of lectures and practical workshops on "The Crooked Horse Syndrome". The dates are Thursday 29th May to Sunday 1st June 2014.
It will take place at Sparsholt College, SO21 2NF (days 1 and 2), near Winchester and then continue at Braishfield Manor in Braishfield, SO51 0PS (days 3 and 4), near Romsey, Hampshire.
I first met Kerry in 1999 when he was lecturing on the IVAS course and hearing him speak was truly inspirational. Since then I have been fortunate enough to attend a number of his presentations and have always come away with new ideas and treatment techniques to put into practice. This will be a great opportunity to learn from Kerry's extensive knowledge and experience of treating horses with performance problems. Following 1½ days of lectures we will assess and treat a number of competition horses. Numbers are restricted so that every delegate will be able to benefit from individual instruction.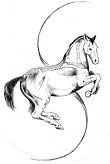 Presenting
Dr. Kerry Ridgway
In a 4-day lecture and practical workshop on
"The Crooked Horse Syndrome"
29 May—1 June, 2014
Dr. Ridgway is an internationally known clinician and lecturer in Integrative Veterinary Medicine as well as Conventional Medicine. He has a strong background in Equine Sports Medicine, and Postural Rehabilitation Therapies that include: Acupuncture, Chiropractic, Podiatry, Saddle Fitting and Myofascial connections. As a former endurance rider Dr. Ridgway also has a deep understanding of the role of the rider.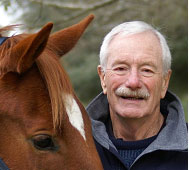 This seminar explores Dr. Ridgway's approach to integrative equine medical evaluation and treatment concepts, specifically as they relate to equine balance, straightness, athleticism and soundness. The symposium is ideal for veterinarians who have had training in equine chiropractic and/or acupuncture. However, any conventional practitioner of equine medicine will be able to understand and utilize the material from the clinic to achieve better case outcomes.
The lecture portion (the first day and a half) will focus on equine laterality, also known as "the crooked horse syndrome." Looking from the perspective of the treating veterinary clinician, the focus will be on the manifestations and pathology that the syndrome creates. Gait patterns, muscle patterns, myofascial patterns, tendonitis, desmitis, foot balance, saddle fit, degenerative joint disease, including facet joint pathology are all critical aspects associated with "Natural Crookedness". The lectures will discuss therapies that best address the root causes of this condition.
Topics that will be addressed in the lectures include: the high heel/low heel syndrome and other foot imbalances associated with laterality, gait patterns and gait analysis, recognition of the role of fascia, muscle specific acupuncture (that can be learned without any significant background in acupuncture) and chiropractic patterns. Other laterality consequences which are important for optimal performance and their treatment, e.g. for chronic TMJ pain and hyoid muscle spasticity, also core muscle issues e.g. Psoas, Internal/External Oblique and how to identify dorsal sacral ligament desmitis will be discussed. Equine gastro-intestinal ulcers and how they are often related to the "crooked horse" syndrome will also be discussed, including how to clinically identify ulcers not only in the stomach but also in the right dorsal colon. The lectures will be followed by 2.5 days of examination and treatment of horses presented at the clinic.
There will be handout / syllabus material of all lectures provided in advance.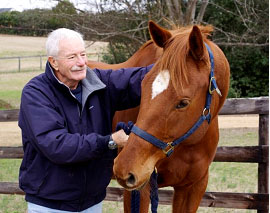 For further information and registration, contact Sue Devereux
Venues:
Days 1 & 2: Sparsholt College near Winchester, SO21 2NF
Days 3 & 4: Braishfield Manor, Braishfield, nr Romsey, SO51 0PS
Fees and Enrollment
Acceptance into the course is on a first come, first accepted basis. The number of attendees is limited to 12. A small number of places are available on days 1 and 2 for equine professionals who are not vets or chiropractors.
Full fee is £1000
Payment can be made by cheque payable to Equine Vet CPD and posted to Sue Devereux, Meadow Rise, The Street, Farley, Salisbury, Wiltshire, SP5 1AB. You can also pay by online banking, please contact us for details.
Further information is included in the links below. If you would like to attend, please complete the registration form and e-mail it to Sue Devereux.
Once your place is confirmed and fees received, the course's lecture notes will be e-mailed in advance of the course.